Posts tagged Taxes - State Returns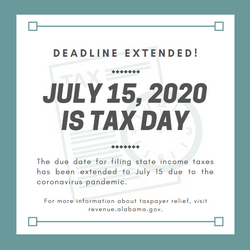 On April 10, 2020, the Alabama Department of Revenue announced that they have updated certain tax-relief policies as it relates to income and other taxes. Mirroring the expansion of filing and payments due-dates covered in a similar update issued by the IRS on April 9, the deadline for filing and payment of 2019 Alabama tax returns has been extended from April 15 to July 15, 2020.
"Taxpayers can defer state income tax payments due on or after April 1, 2020 (previously April 15), and before July 15, 2020, to July 15, 2020, without penalties and interest, regardless of the amount owed. This deferment applies to all taxpayers, including individuals, trusts and estates, corporations and ......