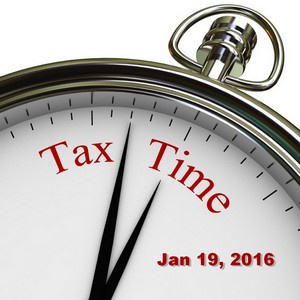 According to the Internal Revenue Service's December 21, 2015 newsletter, "the nation's tax season will begin as scheduled on Tuesday, Jan. 19, 2016". The IRS will begin accepting individual electronic returns that day. They expect to receive more than 150 million individual returns in 2016, with more than four out of five being prepared using tax return preparation software and e-filed. The IRS will begin processing paper tax returns at the same time. They reminded filers that there is no advantage to filing paper tax returns in early January instead of waiting for e-file to begin.
Although the IRS begins accepting returns on Jan. 19, many tax software companies began accepting tax returns earlier in January and will submit them to the IRS when processing systems open.
The IRS stresses that choosing e-file and direct deposit for refunds remains the fastest and safest way to file an accurate income tax return and receive a refund. The IRS anticipates issuing more than nine out of 10 refunds in less than 21 days. They also urge all taxpayers to make sure they have all their year-end statements in hand before filing, including Forms W-2 from employers, Forms 1099 from banks and other payers, and Form 1095-A from the Marketplace for those claiming the premium tax credit.
The filing deadline to submit 2015 tax returns is Monday, April 18, 2016, rather than the traditional April 15 date. Washington, D.C., will celebrate Emancipation Day on that Friday, which pushes the deadline to the following Monday for most of the nation. (Due to Patriots Day, the deadline will be Tuesday, April 19, in Maine and Massachusetts.)
The newsletter also reported that as part of the Security Summit initiative, the IRS has been working closely with the tax industry and state revenue departments to provide stronger protections against identity theft for taxpayers during the coming filing season.

BGGE "Prior-Year" Clients Qualify for $15 OFF Tax-Ready Bookkeeping Services
In the next couple of days, I will send out my annual tax organizer and bookkeeping newsletter which include various savings options for BGGE Bookkeeping clients. But to jump start the beginning of the tax season and to show my appreciation, I am offering a $15 off "weekend special discount" to last year's clients.
If your tax situation has not changed significantly from last year, all you have to do is look at last year's invoice, deduct $15, and make payment. Whether you plan on filing your taxes on January 19th or April 18th, I will prepare your tax-ready financials at no extra cost. This offer ends on Sunday, January 17th. Other restrictions apply.
If your tax situation has changed from last year, you may qualify for other savings discounts. Contact me if you have questions or need additional information. Otherwise, click here and get your discount now!